About
Mía Display calls attention to gender issues within the field of design.
Objective
Explore feminist and intersectional theory through research, experimental methods, and type design. Reinforcing existing power structures supports systems of oppression. The need for feminist approaches to design activism and integrating feminist values into exploration is becoming increasingly imperative in order to confront the Eurocentric patriarchal origins of design and open new spaces for critical making and inquiry.
With this typeface, I hope to challenge the notion of what it means to make "good design", dispute the white male-dominated narrative, and dismantle the gender binary of feminine versus masculine.
Feminine typefaces are stereotypically associated with smooth, rounded, and curvy characteristics while masculine typefaces are seen as thick, hard, and geometric forms. Mía Display attempts to combine and balance both aspects to explore a gender-neutral design. Furthermore, Mía Display demands the viewer's attention by bringing an emphasis to the underrepresentation women face in the type design domain while utilizing a non-binary stance and intersectional approach.
Although women are actively and increasingly participating in the field of design, patriarchal structures have hindered women from receiving the recognition they rightfully deserve (Breuer and Meer, 2012). Historically, men have dominated the design field and established the canon of "good design" while women are labeled as the "exceptions". Mía Display calls attention to the gender issues within the field of design and questions the patriarchal systems and structures that have yielded gender inequality and inequities while sustaining unrelenting oppression. Choosing to engage in type design as well as poster design have symbolic meaning and ultimately captivate feminist theory. The craft of rendering typefaces—or any craft for that matter—is seen as a practice only men can successfully achieve. Furthermore, poster design has been predominantly a white male industry dating back to the 19th century, hence why I chose to create type specimen posters.
The name Mía is of personal and cultural significance to me. Translating to "mine" in Spanish, Mía is also the name of my younger sister, whom I respect and admire. As some font advertising reinforce objectification of women (Papaelias, 2015), Mía Display reclaims exaggerated curvilinear and voluptuous features not to enhance or idealize women's bodies, but rather to be bespoke, loud, and unapologetic.
Final Deliverables
Created with a minimal structure while following the same grid, this san serif display typeface contains heavy and light weights with matching rotalics.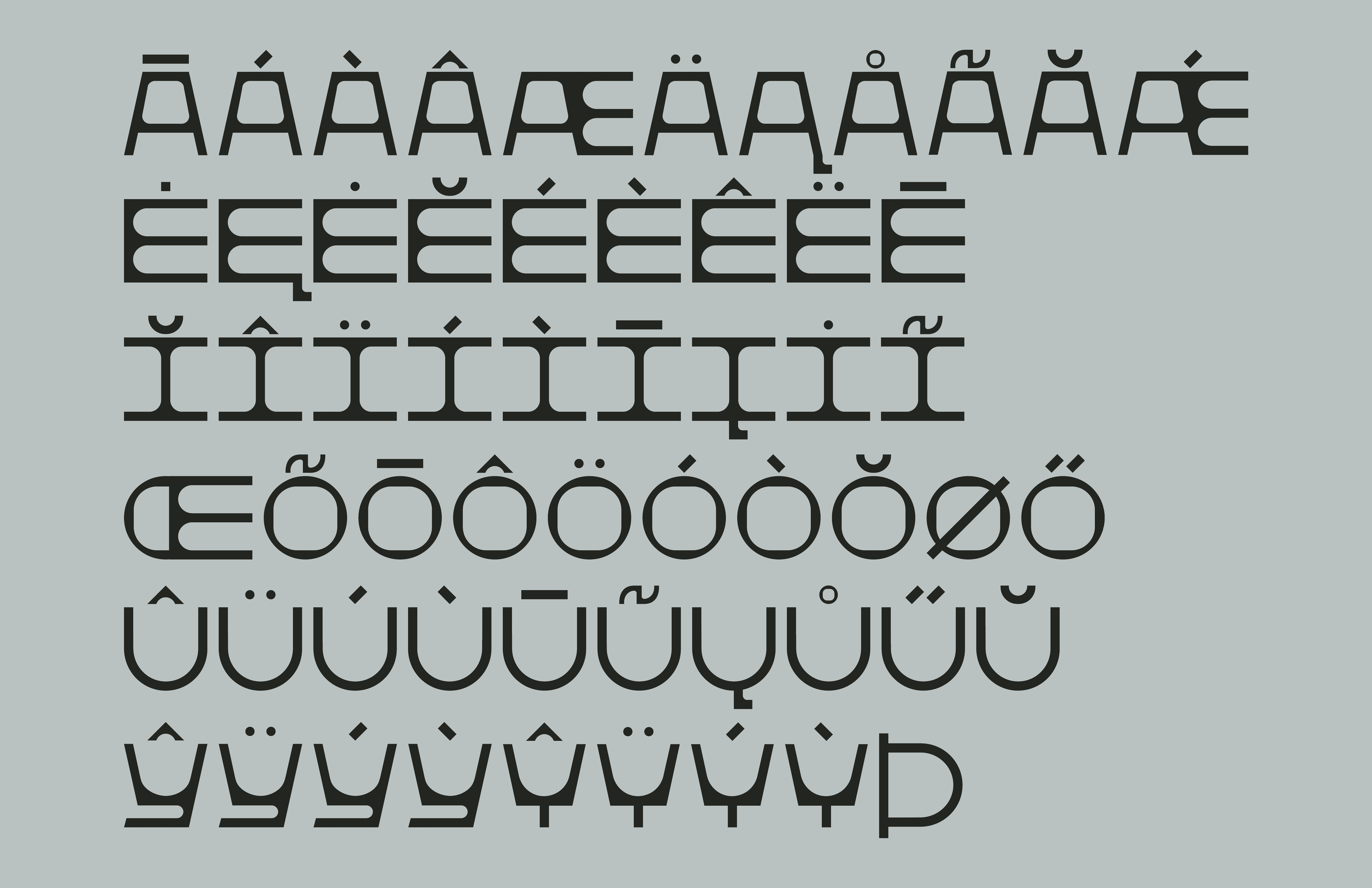 With a total of 225 glyphs, Mía Display consists of a standard character and number set, Latin diacritical marks to support multiple languages, math symbols, currencies, and stylistic alternates.
Accompanying the typeface are five type specimen posters that exemplify the typeface's OpenType features, font variation, and experimental creation potential. Swipe to view.
Mía Display | Heavy Rotalics